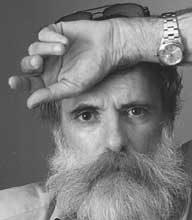 Micha Bar-Am was born in Berlin in 1930 and immigrated with his parents to Palestine when he was six years old. He was active in the pre-State underground and later served in a Palmach (Elite Infantry Corps) Unit during Israel's 1948 War of Independence. It was during this war that Bar-Am witnessed a series of events that altered the face of his homeland.
Micha Bar-Am
In 1949, he helped to found Kibbutz Malkiya on the Lebanese border and later worked as a locksmith, mounted guard, and youth instructor at the Kibbutz Gesher-Haziv in Western Galilee. Never merely a detached witness of his country's history, people, and landscapes, Bar-Am began to photograph seriously in the early fifties, although his interest in photography started as a teenager.
Using borrowed cameras until he bought himself a vintage Leica, Bar-Am recorded in a small notebook the exposure times and lighting conditions of every photograph he took. Slowly his work began to be published. In 1957, he became a photographer-reporter for the Israeli Army magazine Ba-Mahaneh and was on its editorial staff for ten years. He has photographed the Israeli Army ever since, covering the Six-Day War in 1967 with Cornell Capa, recording the war in 1973 at the Suez Canal and documenting the Israeli invasion of Lebanon. He served as a photographic correspondent for the New York Times in Israel from 1968 to 1992.
Bar-Am has called Israel his "lifetime assignment" and his pictures are visual statements about the fascinating complexity of Israeli life. Rooted in photojournalism but shaped by an artist's eye, his work belongs to the tradition of such photographers as Robert Capa, Walker Evans and W. Eugene Smith.
Many are images of daily life during wartime, which do not depict direct combat as much as they do the traces of conflict. These include a crowd of people looking for names on the surface of a Holocaust Memorial wall and a fashion show held on an army base for the entertainment of a crowd of soldiers. The works in the exhibition are not so much about the nation's history as it is about the traces of history in everything from daily life to echoes of Bar-Am's own struggle, the rewards and frustrations of attempting the improbable task of observing and participating in the events as they are taking place.
Since assisting Cornell Capa in 1968 to create the landmark exhibition Israel the Reality at The Jewish Museum in New York City, Bar-Am has been heavily involved in the work of other photographers as a historian, and since 1977, as curator and founding director of the Department of Photographs at the Tel Aviv Museum of Art, a position he held until 1993. He has since returned to his own photography. See also, letters from friends and associates: